Dental Implants without Surgery
Dental Implants in Marmaris / Turkey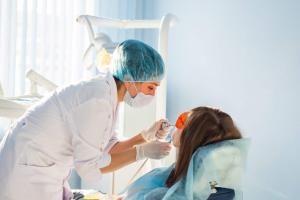 No cutting, No stitches
Accurate, safe, and predictable surgery

Shorter operation time

Shorter healing time with flapless surgery

No stitches or cutting are required resulting in a friendly procedure for the patient

Less discomfort following the procedure

Immediate prosthetics can be placed
TEETH IN AN HOUR (Dental Implants without Surgery)
(Dental implants without surgery) Teeth-in-an-hour is a technique that can be reduced the time of the implant treatment significantly. Thanks to new technology that allows us, it is possible to have dental implants and new, fully functioning teeth in the same appointment. The actual surgery may last just a short time maybe one hour, but the method also requires a vital preparation phase that can range from 2 to 4 weeks.
An essential part of the technique is the sophisticated radiographic techniques combined with computer technology to enable precise surgical placement of the implants. Detailed 3-D imaging is helping us very much. And this system allows to assess bone structure accurately, map out the areas of best bone integrity, decide the exact position of implants and also even create a permanent prosthesis prior to the dental implant surgery.
TEETH IN AN HOUR (Dental Implants without Surgery)
There is little healing time required for the bone to fill in the gap because the implants fit precisely into the surgical sites prepared for them. Implants are ready for immediate function and without waiting times, the restorations can be loaded right away. With Teeth-in-an-hour, the process is completed in about one hour, and the patient leaves with his or her final teeth with a new smile and new life at the end of the appointment.
Teeth in an hour technique procedure can use for a single tooth, multiple teeth and all teeth replacement. This way is particularly suitable for cases of total rehabilitation in patients who have already lost their teeth. It is also recommended in patients with coagulation disorders.
The diagnostics, implementation and planning allow us full control of processing parameters. We can determine the optimum position of the implant. Bio-mechanical, functional and aesthetic needs as well as the quantity and quality of bone at the selected location, are fully integrated into the process of decision making.
For dental implants, it is the fastest and most effective system. With this technique, making implants is much quicker and more comfortable for the patient. Who must not suffer a prolonged postoperative and see how in just 24 hours and make a healthy life without discomfort or scarring. And it's a big plus for us when deciding on the intervention that causes rejection only 2% of implants placed.
Procedure:
Our dentists examine the patient clinically and taking impressions for study models and radiological guidance.
Proof of radiologic guidance and scanning the patient.
Diagnosis and Treatment Planning
Dentist, virtually placed implants in the optimal position.
Prefabrication of prosthetic solutions
Preparing Prefabrication based implants using the surgical template provisional.
Placing the implants under local anaesthesia
And when also indicated the provisional fixed prosthesis on implants. Needless to stitches
What restrictions are there?
If the patient has a limited mouth opening for infections in the area close to work or whether to make increased soft or hard tissues, in which case it is necessary to lift the gum.
As Marmaris Dental Center, we are ready to turn your treatment into a holiday.
This type of surgery is available in high-end dental clinics in UK London; however, as the technology is new and used for aesthetic, that's why it is costly for the clinics. The costs are passed onto the patient with UK prices until £3,500 for an implant placed with this technique.
Our offer is, with Teeth-in-an-hour technique (non-surgical dental implants) for £549 (Implant + Abutment). The cost of the Implant complete with the crown is £674 (there are not any hidden extras). We have three clinics in Turkey, and our clinic in Marmaris is one of Turkey's best Dental Centres. Located in the centre of Marmaris, the clinic has both a CT Scanner and Implant planning team using the latest Guided Implant technology. The clinic is very modern and has excellent facilities for patient comfort. Patients travel from the UK, Europe, Canada, USA and Australia to our clinic to have this procedure. We are currently placing over 80 Dental Implants every month using the 'Teeth-in-an-hour' technology. We are always trying to keep our prices as affordable as possible. We believe in time the software will pay for itself as more people talk about our clinic and the technology we use.
| | |
| --- | --- |
| Travel Time | 3-5 Days |
| Dental Implant without Surgery | £549 |
| Transfer from Hotel to Clinic – Clinic to Hotel | FREE |
| Consultation | FREE |
| Panaromic X-Ray | FREE |
| Volumetric Tomography | FREE |