Porcelain Veneers in Marmaris Turkey
Hollywood Smile Turkey – Marmaris
If you feel that your smile is not looking as good as it should be, then there is no need to get worried because we have solutions for your problems. At Marmaris (Turkey), we are providing multiple dental treatment facilities to bring your beautiful smile back with shining white teeth. Our Marmaris Dental Center (Turkey) is an excellent opportunity for people all around the globe to visit Marmaris Turkey as tourists. And also enjoy state of the art dental treatment. We bring "Hollywood Smile" on your face, which gives you a perfect look. It is our belief that everyone deserves to have advanced dental treatment. With high-quality standards so that they can have a great smile on their face without hiding anything. Marmaris, Turkey, is an excellent opportunity for all of those who are looking to have a "Hollywood Smile".
Dental Veneers

In Marmaris Turkey, the Dental Veneers are considered one of the Best Cosmetic Dentistry Treatments
Dental Veneers in Marmaris, Turkey
First, you need to know what Dental Veneers is before you go for treatment. These are cosmetic procedures of the dental field, where treatments are given to improve the overall appearance and looks of your teeth. A thin shell is a dental veneer, which is made with the help of synthetic material. The good thing about this material is that its shape is made in a way that it looks like the front portion of teeth. So, what a dentist does to apply this veneer on your teeth? A dentist uses some material so that dental veneers can be pasted on your teeth on the front side of your tooth, which is visible to others. By applying the dental veneers, the overall appearance of your teeth is drastically improved. 
It is essential to keep in mind that dental veneers are not made to reverse any problems related to any disease or improve their overall function. Instead, it is just a technique to improve the overall physical appearance of your teeth. So, if your teeth are discoloured, and they don't appear to be good. And if you often try to hide your smile from others; then you can bring back that smile on your face. As dental veneers will help you to get a Hollywood Smile in Turkey. We offer you affordable prices and high quality in Marmaris Turkey.
How Are Dental Veneers made in Marmaris, Turkey?
The dental veneers are made like a thin shield, which is applied on the front side of teeth, and this light shield is made by using material named "porcelain. Porcelain is a natural substance, which is used to create thin shields of dental veneers, which can be as thin as 0.5 mm. These dental veneers can restore your smile on your face, as the physical appearance of your teeth is improved extensively. The good news for you is that there are so many high-quality brands offering quality dental veneers. And you can choose any of these brands at our centre to continue with your dental veneers procedure.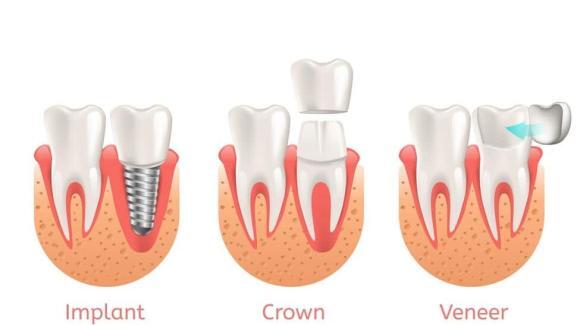 Who Can Get Benefits of using Dental Veneers in Marmaris, Turkey?
It is undoubtedly an important question to be answered who can be the beneficiaries of this dental procedure. You must have seen and heard about fingernails, which usually are applied by women to beautify the looks of their hands. So, dental veneers are the same kind of concept, but it is used to beautify the appearance of your teeth. It is essential to know that it is ultimately a Cosmetic procedure.
The people who have damaged or stained teeth with bad physical appearance, they can use this particular treatment to get things done. So, it is a smile makeover dental procedure to hide any bad physical appearance of your teeth. For instance, if your teeth have gaps, or their shape looks bad in appearance, then you can apply dental veneers to get a perfect look. So, people having such issues can take benefits from the procedure of dental veneers in Marmaris, Turkey.
Cost of  Dental Veneers in Marmaris, Turkey?
The prices of dental veneers in the UK or other European countries can start at £600 and range upwards. The total expenses of veneer procedures also include lab charges, as the products have to be customized in a lab to suit your teeth. When the costs are accumulated, the final tally is unbearable to many patients who require veneers. Most dental insurance policies do not cover the cost of veneers as these fall under cosmetic dental procedures.
Marmaris Dental Center offers low-rate options for high-quality dental veneer brands thanks to low prices of operations. We provide the same world-class brands you can find in countries like the UK, Germany, and the US. But the overall costs you have to bear will be low because of low operational costs. Therefore you can save up to 70% if you get your veneers in Turkey. Besides, your treatment can be completed in 5 full days, so you do not have to wait for dental appointments and the completion of your dental treatment for weeks. After five days in Turkey and three dental appointments in our clinic, you can go back home with a completely new, healthy and aesthetically pleasing smile. 
What to Keep in Mind after the Treatment?
There may be some enamel on your teeth, which will be removed before applying the dental veneers. It would help if you kept in mind that after continuing with this dental veneers procedure, the sensitivity of your teeth will be increased. But there is nothing to worry about too much because this sensitivity will not be permanent. Instead, it will be temporary. The dental veneers will be useful in protecting your teeth from these sensations. However, it will undoubtedly take some time so that you can get used to these dental veneers. You can also consult with your dentists in Turkey that what type of toothpaste to be used after the application of dental veneers.
Moreover, you need to know that before applying Porcelain dental veneers, there are temporary veneers, which are used to give you an idea of how does it, feel in your daily routine. If you feel any discomfort or issues, then you can share those feelings with your dentist so that viable adjustments can be made to your actual dental veneers. It is essential to follow this practice so you can stay away from any issues after the application of dental veneers. Your comfort is the important thing. In addition to that, you may not forget that the physical appearance of your teeth has undoubtedly improved, but beneath these dental veneers, there are your actual teeth, which need proper care. The dental veneers can be susceptible to decay as well as disease. So, you can't do things lightly in this regard, and you mustn't forget to brush your teeth daily.